Cart
(0)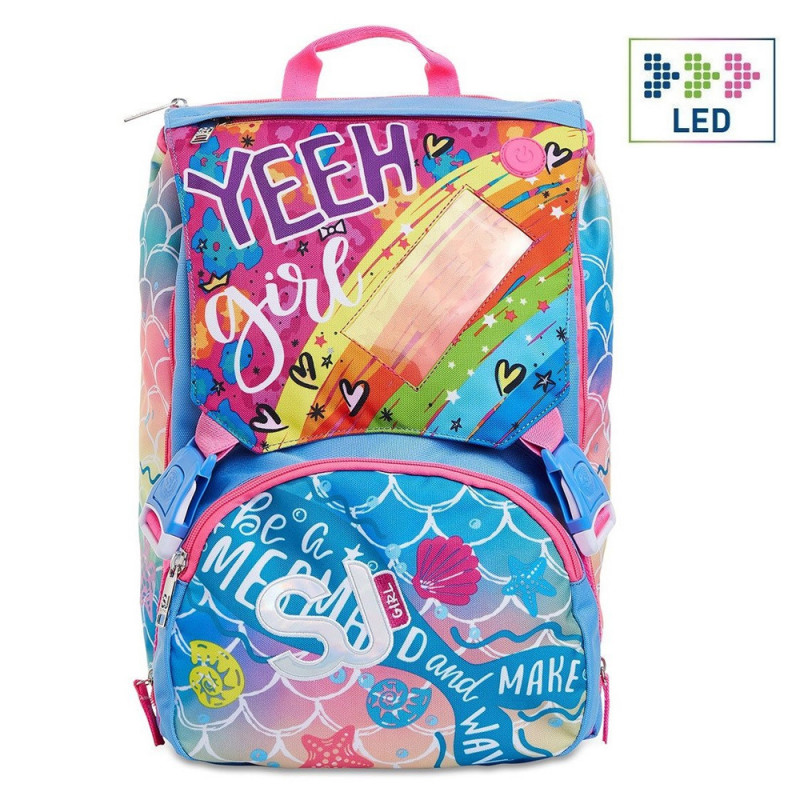  
Description
Backpack EXTENSIBLE BIG SJ GANG - OCEANLED GIRL
Hi! They are the SJ Gang OCEANLED GIRL extendable backpack, with reflective details, which accompanies you to school in a fun and playful way! In fact, you can have fun activating the INTERMITTENT BRIGHT LEDs that I have on the flap and see how they change color! You can also recharge them with the included USB cable. The flap is removable because the backpack is washable. I have a large double compartment, the capacity of which can easily be multiplied thanks to the side zips to accommodate and distribute even the heaviest loads in an optimal way. With the preformed Ergosystem backrest and the padded and breathable shoulder straps I am comfortable to wear on the shoulders, while the integrated bottom ensures that my structure remains unchanged and stable even when fully loaded.
FEATURES
• Capacity: 21 LT closed - 28 LT open
• Dimensions: Closed: 27 x 41 x 16 Cm; Open: 27 x 41 x 22 Cm
• Features: Extensible backpack with side zip. Reflective inserts for 360 ° protection. Integrated LED system on flap with on / off button and USB charging, completely removable flap.
• Warranty: 4 YEARS
• Backrest: Preformed Ergosystem with integrated bottom.
• Shoulder straps: Padded and covered in breathable fabric and mesh.
• Pockets: Front pocket. Pocket on flap.
• Fabric: Polyester resin fabric.
SJ GANG
EXTENDABLE BIG SJ GANG- OCEANLED GIRL
https://www.vigliettisport.com/en/1389-accessories/1642-school/1643-school-backpacks/14054-backpack-extensible-big-sj-gang-oceanled-girl-8011410625556.html
2023/06/25
1 Item In stock
Last items in stock
or in 3 installments from

19,83

€ without interest with

See info >
FREE SHIPPING IN ITALY FROM € 50.00

Fast and safe shipping

Safe payments

Easy return and immediate refund

Customer service and technical assistance
Data sheet
BAGS AND BACKPACKS USE
SCUOLA
VOLUME BAGS AND BACKPACKS
21 LT CLOSED - 28 LT OPEN
RECOMMENDED SEASON
FOUR SEASONS
BAGS AND BACKPACKS SIZES
CLOSED: 27 x 41 x 16 Cm OPEN: 27 x 41 x 22 Cm
CODICE FORNITORE
2C2002124_530
SEASON | COLLECTION
2022 | Winter
STAGIONE / COLLEZIONE
Previous collections