Cart
(0)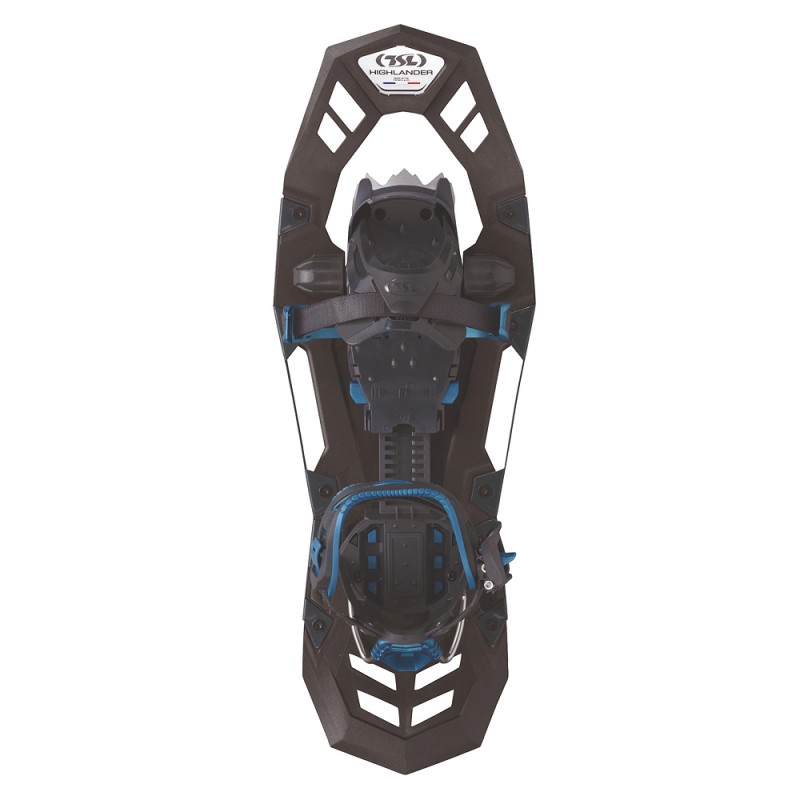  
Description
Snowshoes SNOWSHOES HIGHLANDER ACCESS
HIGHLANDER ACCESS snowshoes: Under the obvious accessibility of its quick and easy adjustment system, the HIGHLANDER ACCESS offers stability and effective grip on all types of snow. Let the adventure begin!
HIGHLANDER FRAME & GRIP
Rocker:
The rocker allows you to start the step to accompany the development of the foot movement in flat and downhill.
Front Grip:
The aggressive multi-tooth «claw» for maximum traction on steep slopes. Made of stainless steel, it will stand the test of time.
Side grips:
The interchangeable grips located on the perimeter of the frame guarantee a powerful grip on all types of snow. The three-dimensional design and hourglass shape help you not slip as they go up, providing better grip for downhill sections.
Structured frame:
The structured frame and its cross bars ensure traction and grip on soft and compact snow.
Contact Grip:
TSL patent, The various composite teeth under the rear rocker of the racket cut and release the snow for a good grip on the descent.
Crampons:
On the flat and uphill, the first point of contact with the snow occurs through these two points located under the foot support area.
ATTACK SYSTEM
• The telescopic fastening allows for excellent flexibility at the level of the foot
• Lock Adjustment: Easy to use, these adjustments allow you to memorize your boot number for subsequent rides
• Tightening front with strap.
• Lateral Adjust: comfort is adequate thanks to the lateral adjustment that allows you to integrate all boot widths for optimal foot wrapping.
• Storage of the ankle
• Closure of the heel by means of the rack system for a quick and safe fit
• Comfort pad in double material
• Shock absorber
• Heel lift: With the EASY ASCENT system, you no longer need to bend down to adjust the height of the heel lift.
TSL
CIASPOLE HIGHLANDER ACCESS
https://www.vigliettisport.com/en/1095-SPORT/1131-TREKKING/1620-CIASPOLE/12929-snowshoes-snowshoes-highlander-access-3436500416121.html
2023/01/20
0 Item In stock
There are not enough products in stock
or in 3 installments from

58,33

€ without interest with

See info >
FREE SHIPPING IN ITALY FROM € 50.00

Fast and safe shipping

Safe payments

Easy return and immediate refund

Customer service and technical assistance
Data sheet
SEASON | COLLECTION
2020 | Autumn winter
CODICE FORNITORE
PFRHM193
Feedaty Reviews
Ciaspole davvero performante con facile e precisa chiusura. Permettono di affrontare anche pendii su neve dura
prodotto corrispondente alle aspettative. materiale robusto