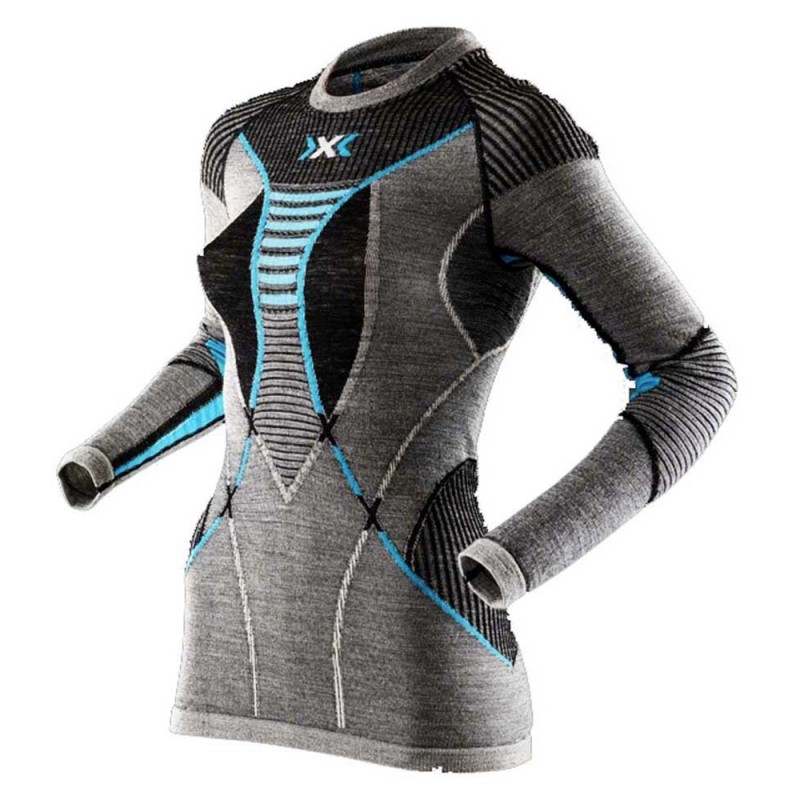 Description
APANI 4.0 MERINO ENECK LS W

The Air-Conditioning Channel® is a ventilation system of channels that flow around the body that transport excess moisture and heat outside. It allows air to flow to regions of the body normally not accessible by tempered air circulation.

Aktiv-Bund®
The ultra-elastic edge guarantees maximum wearability and tightness, without tightening.

AIRCOMPLEXZONE - GREATER INSULATION - DIMENSIONS: 72CM2
In correspondence of the solar plexus, just below the twelfth thoracic vertebra, the organs' funicular nerves meet, from which pass the information that affects the overall welfare of the organism. Energizer® MK2 protects this particularly sensitive area with special channels. The warm air built into them insulates perfectly from the cold. In the case of physical exertion, the structure manages excess sweat, offering a pleasant sensation of freshness on the abdomen.

3D-BionicSphere® System on the chest
The 3D-BionicSphere System® in the thorax area effectively thermoregulates, without giving the body the sensation of cold. The warm air inside the channels acts as an insulator. Hot and humid air is instead disposed of through the dynamics of thermoregulation and replaced with fresh air.

SweatTraps® on the back
In order not to waste even a drop of the precious sweat, the Sweat Traps® are now present under the 3DBionic Sphere® system on the back, aligned next to each other.

3D-BionicSphere® System on the back
Ensures effective ventilation and allows excess sweat to be transported to the outside. The air forfeited in the canals instead works as an insulator against the cold.

ISO-Pad
It specifically protects certain parts of the body from the cold outside and therefore from freezing. In this way the ISO-Pads structures on the pelvis retain on the body the heat necessary to maintain an optimal temperature, which among other things is important for the functioning of the internal organs.

ExpansionRibs ™
The structure of the ExpansionRibs ™, based on the accordion principle, ensures that the external cold does not cool the elbows. The insulating effect is ensured through the hot air kept inside even in the presence of sharp bending. The flexibility of the ExpansionRibs ™ and the elasticity of the garment allow freedom of movement by eliminating friction.